Open college presidential searches to public scrutiny, Brechner Center's director writes
In an opinion column for the Atlanta Journal-Constitution, Frank LoMonte, director of the University of Florida College of Journalism and Communications Brechner Center for Freedom of Information, cautions that the trend toward selecting presidents of public universities in total secrecy risks saddling institutions with ill-suited leaders who haven't been properly vetted.
The column, "Rich white businessmen aren't best judges of college presidents," was published on the AJC.com website on Dec. 17 as part of an occasional series of guest commentaries curated by the AJC's Maureen Downey.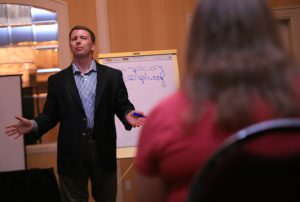 The column responds to the recent and abrupt resignation of Kennesaw State University President Sam Olens, who had served just over a year in office before encountering turbulence over his handling of a racially charged controversy over student protests during the national anthem before football games. LoMonte argues that, had campus stakeholders been given a chance to meet with multiple candidates before the choice was made, questions about Olens' suitability for the role could have been raised and addressed.
Although open-government laws typically entitle the public to know the names of presidential finalists before the choice is made, LoMonte writes that the prevailing practice is increasingly to release just a single preordained "finalist," giving the public no confidence that the search was fair and honest.
LoMonte warns that growing secrecy in the selection of college presidents puts more power into the hands of executive headhunters, who may be unfamiliar with the campus culture and have little incentive to conduct the rigorous background checks that a sensitive position of public authority demands.
Posted: January 9, 2018
Category: Brechner News
Tagged as: Atlanta Journal-Constitution, Frank LoMonte, Kennesaw State University, open records laws, presidential searches, Sam Olens