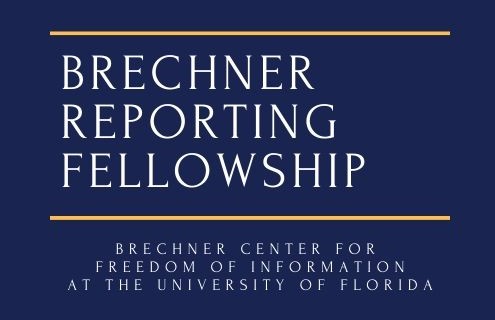 The 2020 Brechner Reporting Fellowship application period is now closed.  Thank you to all who applied for this fellowship.
The Project
The Brechner Reporting Fellowship provides opportunities for professional journalists affected by economic distress to earn a $2,500 stipend to produce research papers about contemporary legal issues involved in the gathering of news. Working with the legal staff of the Brechner Center for Freedom of Information at the University of Florida, Reporting Fellows will create publishable work that (1) contributes to public understanding about the need for access to civically actionable information and (2) points toward solutions in technology, law and public policy that would improve accessibility and usefulness.
How to Apply
The Fellowship is open to any U.S.-based journalist who has involuntarily lost employment or suffered a reduction in pay since January 1, 2020, as a result of economic factors (layoff, downsizing, furlough). Applicants should provide the following professional information: (1) Current or most recent journalistic employer, (2) date of loss of employment or compensation, (3) a professional resume with copies of, or links to, three samples of journalistic work, and (4) a statement of interest in open-government issues as well as any specific research projects of interest.
The Process
The application period opens on April 21, 2020, and closes on May 15, 2020. The first round of 10 fellowship awardees will be announced on June 1, 2020. Each selected Reporting Fellow will receive a $1,000 advance payment upon completion of the initial fellowship agreement, which will include a detailed project description and anticipated deadline. The remaining $1,500 will be payable upon completion and submission of work product that satisfies the terms of the fellowship agreement.