Sara Ganim Featured in Podcasts on Sexual Assault Gag Orders and System Failures in Protecting Sexual Abuse Victims
Sara Ganim, University of Florida College of Journalism and Communications Brechner Center for Freedom of Information Hearst Journalism Fellow and Pulitzer Prize-winning journalist, is the host and producer of "'Gag Order' Against Sexual Assault," the latest episode of "What Don't We Know" recorded at SXSW EDU in Austin and posted on June 2.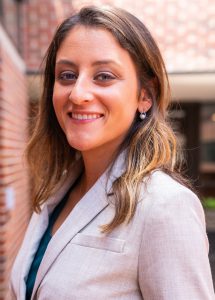 In the latest episode, Ganim focuses on how universities are putting conditions on student accusers' access to evidence after a sexual assault. The Brechner Center received information via public records requests revealing that students were required to sign an agreement explicitly stating that they can share evidence only with their hearing advisers and no one else.
Ganim found that even though Title IX is supposed to protect students who allege sexual assault, schools are requiring their silence at the outset of investigations. This confusion highlights a discrepancy between what these contracts say versus how they might be enforced and bolsters the argument of advocates who say students are being wrongly intimidated by these agreements.
In addition, Ganim is host of the  "The Mayor of Maple Avenue " podcast from  Penn Live, Advance Local and Meadowlark Media, available on Apple Podcasts and Spotify. The 11-part series focuses on Shawn Sinisi, who was sexually abused by Penn State Coach Jerry Sandusky, and was the first known and documented victim to die. The series documents Sinisi's battle with drug addiction leading to an overdose in 2018. aftGanim was awarded a Pulitzer Prize for her reporting on Sandusky, whose conviction on 45 counts of child sexual abuse rocked Penn State a decade ago.
Posted: June 13, 2022
Category: Brechner News
Tagged as: Brechner Center for Freedom of Information, Sara Ganim