Frank LoMonte Co-Authors Article on Smartphone Security for Mobile Journalists
Frank LoMonte, University of Florida College of Journalism and Communications Brechner Center for Freedom of Information director, is the co-author of "Smartphone Security for the Mobile Journalist: Should Reporters Give Police the Finger?" published in the North Carolina Journal of Law and Technology, Vol. 23, Issue 2.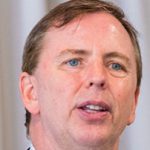 LoMonte and UF Levin College of Law student Philip Sliger focus on the constitutional arguments that a journalist, professional or amateur, can make in attempting to resist a police search of a smartphone. The article compares two popular security methods, biometric encryption or alphanumeric passcode, and analyzes the strengths and weaknesses of each method from a legal standpoint.
According to the authors, "Courts overwhelmingly agree that the First Amendment protects the right to record police activity in public spaces. But it is less clear whether and under what circumstances journalists have a constitutionally protected right to resist having their work product searched when they are eyewitnesses to potential criminal activity."
They add, "This article concludes that journalists assigned to scenes where clashes between police and protesters are foreseeable should anticipate facing a demand to surrender a phone – or face an arrest – and take precautions, knowing that after-the-fact damages as remedies against police are increasingly unreliable."
Posted: January 10, 2022
Category: Brechner News
Tagged as: Brechner Center for Freedom of Information, Frank LoMonte, Philip Sliger