Frank LoMonte to Serve as Moderator for Constitution Day Webinar
Frank LoMonte, University of Florida College of Journalism and Communications Brechner Center for Freedom of Information director and co-chair of the American Bar Association Free Speech and Free Press committee, will serve as panel moderator for "How Free is the Free Press," a virtual webinar on Constitution Day, Sept. 17 at 12:30 p.m. EDT.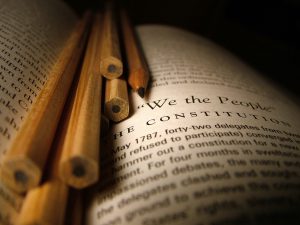 The webinar will focus on the First Amendment and current challenges and threats to freedom of the press in the U.S. Other topics include the arrest and harassment of reporters covering demonstrations, concerns raised by now two Supreme Court Justices about the need to reform libel law, denial of access to courts during the 16 months of courthouse closures for the pandemic, and denial of access to public records and hearings and trials.
Congress has mandated that public schools should teach something about the Constitution on Sept. 17. This panel discussion is available to incorporate into classes on that day.
Posted: August 30, 2021
Category: Brechner News
Tagged as: American Bar Association, Brechner Center for Freedom of Information, Constitution Day, Frank LoMonte