Columbia Journalism School Names Sara Ganim a Spencer Education Journalism Fellow
Sara Ganim, University of Florida College of Journalism and Communications (UFCJC) Brechner Center Hearst Journalism Fellow, has been selected as one of four distinguished journalists to be named a Spencer Education Journalism Fellow for the 2021-2022 academic year.
The Spencer Education Journalism Fellowship at the Columbia Journalism School was launched 14 years ago to enhance education journalism with deep research. The fellows will study and produce significant works of journalism on the state of education across America.
Ganim, a Pulitzer-Prize winning journalist, joined the Brechner Center for Freedom of Information in July 2019 on a two-year Hearst Journalism Fellowship focused on data deserts in public education. As a Spencer Fellow, she will be researching and writing about the weaponization of privacy laws in public education.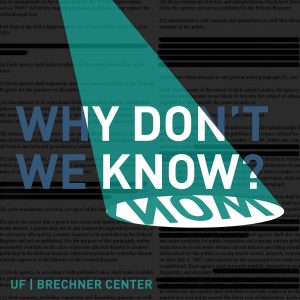 During her Hearst Fellowship, Ganim and a team of UFCJC students and alumni developed the "Why Don't We Know" podcast, an 18-month investigation into government secrecy. "Why Don't We Know" recently received the Education Writers Association  Award in the Smaller Newsroom Public Service category for their Education Records podcast, which explores the case of four women who were victims of sexual violence and claimed their universities kept their own education records from them — in clear violation of federal law.
Ganim will receive a $43,000 stipend plus research expenses to support her year studying with professors throughout Columbia campuses and working on projects under the guidance of mentors at the Journalism School.
Ganim started her career as a newspaper reporter in 2012 and won a Pulitzer Prize at age 24 for breaking and covering the investigation into former Penn State assistant football coach Jerry Sandusky's sexual abuse of young boys. She then spent seven years as an investigative reporter at CNN. In 2020, she made her first independent film, "No Defense: The U.S. Government's War on Water," which received the Best Documentary Feature award from the June 2020 Festigious International Film Festival.
She will continue on the staff of the Brechner Center working with UFCJC journalism students on a second season of "Why Don't We Know."
Posted: May 1, 2021
Category: Brechner News
Tagged as: Sara Ganim, Spencer Fellowship, Why Don't We Know