Frank LoMonte Comments on Controversial Tweet About Rush Limbaugh
Frank LoMonte, University of Florida College of Journalism and Communications Brechner Center for Freedom of Information director, "Legal Experts: Sarah Parcak's Tweet About Rush Limbaugh Protected by the First Amendment" published on Alabama Media Group's al.com on Feb. 23.
The story focuses on an alleged derogatory tweet by University of Alabama Birmingham (UAB) Professor Sarah Parcak about the late Rush Limbaugh. The tweet is covered by the First Amendment which protects political speech from scrutiny by government agencies.
"College faculty are supposed to be breaking the boundaries of ideas. They're supposed to be experimenting at the fringes of social and political thoughts," said LoMonte.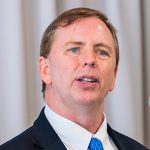 According to LoMonte, he did not consider Parcak's tweet offensive. He found no reason to think Parcak's opinion about Limbaugh, who himself mocked the deaths of people with AIDS (though he later apologized) and was known for rude and cruel remarks about liberals and women, affects her ability to teach or do research fairly at UAB.
"I mean, every single social media account holder in America was weighing in [on Rush Limbaugh's death and influence]. Everybody had a take on it," he said. "If she says something that is equally sharp, but is directed to somebody on the campus, then you might say, gee, that, that calls your judgment and ability to do your job into question. But because it's directed to one of the most famous people on the face of the earth, and somebody who was a lightning rod for controversy, I think there's a lot more latitude to engage in sharply-worded criticism."
Posted: February 24, 2021
Category: Brechner News
Tagged as: Brechner Center for Freedom of Information, Frank LoMonte