Frank LoMonte Comments Possible Restriction on Prisoner Email Communication
Frank LoMonte, University of Florida College of Journalism and Communications Brechner Center for Freedom of Information director, is quoted in "Proposed Limits on e-Communication for Florida Prisoners Raise Censorship Fears" published in the Orlando Sentinel on Nov. 20.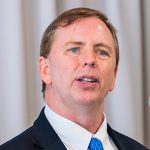 The article addresses proposed restrictions on inmates' use of email to share information, including news stories, with the outside world. Florida prisoners have used email to share the poor conditions they have experienced during the pandemic. A new rule, if adopted, would limit prisoner email communication and possibly expose them to unfair discipline.
LoMonte said that while prisoners have less protection against censorship, the proposed rule is overly broad — and especially concerning during the pandemic.
He noted jails and prisons have been uniquely susceptible to outbreaks of the deadly virus; 187 inmates have died in Florida's prisons after testing positive for COVID-19, which according to The Marshall Project is the most of any state prison system.
"It has always been important for people behind bars to be able to blow the whistle on unsafe or unsanitary conditions, … but now it's a literal [matter of] life and death," LoMonte said. "The rule would create real consequences for journalists, for reformers and advocates, and consequences for just family members."
LoMonte added that the current language is "constitutionally suspect" because it's so broad and doesn't clearly accomplish any safety objective, unlike other rules that messages about criminal activity or the construction of weapons.
"What is it about news stories that you're so afraid of, that you would put it in the same category as escape plans?" he said. "It's not harmful to read."
Posted: November 23, 2020
Category: Brechner News
Tagged as: Brechner Center for Freedom of Information, Frank LoMonte