Sara Ganim Nominated for Prestigious Top Journalism of the Decade Award
A 2012 Pulitzer Prize-winning story by Sara Ganim, University of Florida College of Journalism and Communications Brechner Center for Freedom of Information Hearst Journalism fellow, and her former colleagues at the Central Pennsylvania newspaper Patriot-News, was nominated for the "Top Ten Works of Journalism of the Decade" awards presented by New York University's Arthur L. Carter Journalism Institute.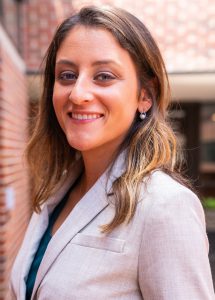 Ganim led the investigation that resulted in "The Sandusky Scandal," which featured extensive coverage of the Penn State sex scandal involving former football coach Jerry Sandusky. The story received the Pulitzer Prize in Local reporting for courageously revealing and adeptly covering the scandal.
The awards, judged by Carter Journalism Institute faculty and a group of distinguished outside judges, were announced on Oct. 14. All forms of journalism in all media were eligible for consideration and 122 works spanning the decade were nominated.
Ganim also won the 2011 George Polk Award in Journalism for the Sandusky story and the Patriot-News received the Scripps Howard Award for Community Journalism.
Posted: October 16, 2020
Category: Brechner News
Tagged as: Brechner Center for Freedom of Information, Sara Ganim