Brechner Center Welcomes First Civic Tech Fellow to Work on Open-Data Projects
Media innovator Rebecca Harris has joined the Brechner Center for Freedom of Information as the Center's first Civic Tech Fellow, working to identify solutions to make local-government data more accessible and useful to journalists and the general public.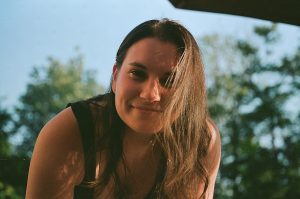 Harris is the founder and former CEO of Purple, a messaging CMS and distribution platform enabling publishers to make individualized connections with their audience members, which was acquired in 2019 by theSkimm. In partnership with media platforms including Univision, her team at Purple provided news coverage of the 2016 presidential election entirely by text-message. In 2019, she was named one of Forbes' "30 Under 30" rising entrepreneurial stars in media. She has also worked as product manager for Text Rex, an SMS-based restaurant recommendation service.
During her fellowship with the Center, Harris will work with UF students on research about the role of municipal "open data" portals in making civically essential information accessible and verifiable for journalists and the public. Her focus will be specifically on small and rural communities that lack extensive data-science civic infrastructure. She will be creating a "best-practices" report identifying ways of making government data more useful and more trustworthy.
"We're thrilled to have the opportunity for our students to work alongside a person of Rebecca Harris' creativity and accomplishment in marrying up technology and news-gathering," said Frank D. LoMonte, professor of journalism at the University of Florida and director of the Brechner Center. "As local news organizations downsize and close, the public will be increasingly dependent on data provided directly by government agencies without the benefit of a professional intermediary to verify and interpret the data. For that reason, the work that Rebecca and her team at the Brechner Center are doing is essential in meeting information needs in communities that are not the elite 'one percenters' of open data."
Harris holds degrees from the University of Connecticut and from the City University of New York, where she obtained a master's degree in entrepreneurial journalism as a Tow Knight Entrepreneurial Fellow.
The Civic Tech Fellowship is supported by a grant from the Hearst Family Foundations, which supports the work of the Brechner Center in identifying and developing solutions to the most pressing information needs of underserved communities.
Posted: July 16, 2020
Category: Brechner News
Tagged as: civic tech, open data, Rebecca Harris