Brechner Center Partners with MuckRock to Gather Police-Misconduct Records from Across New York
Under a newly enacted state law, long-secret police personnel files and misconduct complaints are now a matter of public record in New York, home to the nation's largest police force. The Brechner Center is partnering with MuckRock, a nonprofit transparency and investigative-reporting organization, to secure as many of those records as possible for use by journalists and researchers.
MuckRock, which operates a platform that automates freedom-of-information requests, began sending requests Tuesday to more than 500 certified law enforcement agencies across New York State, employing more than 65,000 officers. The requests were formulated in collaboration with lawyers from the Brechner Center in hopes of rapidly obtaining police misconduct records before they are destroyed.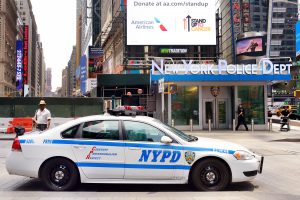 Last week, the New York legislature passed, and Gov. Andrew Cuomo signed, an expedited police-reform bill repealing New York's longstanding personnel-secrecy law, known as "Section 50-a." The legislation came in response to the May 25 Minneapolis police killing of a 46-year-old Black man, George Floyd, during an arrest for a petty crime, and the nationwide wave of outrage that followed. The law makes New York only the 15th state to guarantee the public access to records of complaints against law enforcement officers and their outcomes.
The request seeks production of all available misconduct complaints against employees of law enforcement agencies, including the resolution and the penalties, if any, that were imposed. New York law requires such records to be retained for at least three years following conclusion of the investigation. But when a similar open-records law was enacted in California, some police departments opposed to disclosure shredded their files and fought in court to delay production.
In a letter accompanying each freedom-of-information request, New York attorney Cory Morris puts the agencies on notice that the records are potentially the subject of legal action and cannot be destroyed.
MuckRock is hosting the requests and responses on its website, where the progress of each request is viewable by creating a free account. A coalition of news organizations is being assembled to follow up on the requests and analyze the findings.
Posted: June 16, 2020
Category: Brechner News
Tagged as: MuckRock, New York Freedom of Information Law, police misconduct