Sara Ganim Investigates Data Deserts in Education
Sara Ganim, University of Florida College of Journalism and Communications Brechner Center for Freedom of Information Hearst Journalism fellow, was featured in "It's All Journalism: Lead Reporter in Sandusky Case Now Investigating Barriers in School Data Reporting" published on the Association of Alternate Newsmedia website on Dec. 12.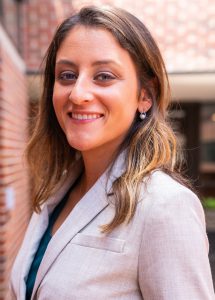 In her position, Ganim is working with students to tackle "data deserts" – places where government data-gathering fails to quench the public's thirst for civically essential information – in different levels of education, from public school privacy to NCAA concussion statistics.
"The laws that protect, are meant to protect student privacy — a lot of times they're used to protect institutions, and the information that they don't want to get out," she said. "And even when they have nothing to do with any kind of identifying information, they are kept secret under the false premise that [the data] needs to be kept secret for privacy reasons."
Ganim adds that any problems encountered while gathering data will likely end up being in the stories themselves.
"I think we're going to see that it's going to take some change in some laws in order for this kind of information to be not just compiled but made readily available and consistently reported," she said. "I think that there are some places where they're trying to do the right thing. But it's so inconsistent from even school to school, forget state to state, that getting a big-picture look at an issue is nearly impossible."
In 2012, Ganim won a Pulitzer Prize for breaking and covering the story about former Penn State Assistant Football Coach Jerry Sandusky's history of child sexual abuse and the lack of action by the university in response to allegations. She was the third-youngest journalist to receive a Pulitzer Prize.
Posted: December 19, 2019
Category: Brechner News
Tagged as: Brechner Center for Freedom of Information, Sara Ganim