Campus Police Records Should Be Open for Public Inspection, Brechner-Led Coalition Tells State Supreme Court
Police who exercise arrest powers at private universities should abide by the same transparency standards as all other law-enforcement agencies, a coalition of open-government advocates argues in a brief filed with the Utah Supreme Court.
In a brief filed Friday, the Brechner Center for Freedom of Information and nine other media and open-government organizations encourage Utah justices to uphold a district court ruling directing Brigham Young University to make its law-enforcement records open for public inspection.
The court is being asked to decide the status of records kept by the Brigham Young University Police Department. Although the police department is located on the college of a private university that is exempt from the state's Government Records Access Management Act, the department has been deputized by the state to perform state law-enforcement duties. Because the department is performing a governmental function, District Court Judge Laura S. Scott ruled in July 2018, its police reports should be accessible for public inspection.
"Whether campus police respond to reports of serious crimes with care and diligence — or fail to do so — is of great public concern regardless of who signs the officers' paychecks," says the amicus brief, prepared and filed with the assistance of Utah attorney volunteer Randy L. Dryer.
The brief was joined by the Student Press Law Center, public radio station KPCW in Park City, the Daily Herald of Provo, the Standard Examiner of Ogden, KSTU-FOX 13 television in Salt Lake City, The Associated Press, the National Freedom of Information Coalition, the Reporters Committee for Freedom of the Press, and the Society of Professional Journalists.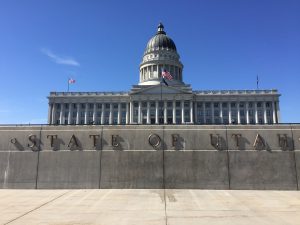 Currently, private-college police that accept state law-enforcement authority must make their records public under state law in Connecticut, Georgia, North Carolina, Texas, Virginia and Wisconsin. Only Indiana has declined to extend open-government laws to cover law-enforcement agencies at private universities.
The brief points out that police on college campuses act interchangeably with city and county law enforcement, and at times even use deadly force, as has happened in recent years on the campuses of Georgia Tech, the University of Cincinnati and Portland State University.
As the brief explains, journalists and citizen watchdogs depend on access to police "incident reports," prepared whenever officers respond to a call, to understand how law-enforcement agencies do their jobs. Access to the information from police reports, the brief explains, enables members of the public to take precautions against being victimized, and even to come forward with information that can help solve crimes.
The case is in court because the Salt Lake Tribune is seeking access to records about the BYU police department's involvement in a 2016 disciplinary case. A former BYU student, Madi Barney, sued the university claiming its police department improperly obtained records from the local sheriff's department to use against her in an honor-code case alleging that — because she was raped — she violated the university's prohibition against sexual relations outside of marriage.
Notably, Utah legislators settled the status of BYU police records in the future by enacting Senate Bill 197 in 2019, which entitles the public to information from law enforcement records kept by private universities. But BYU is still fighting the appeal, because the Tribune is still seeking access to records about the Barney case and BYU argues that Senate Bill 197 does not apply retroactively to past records.
The outcome of this case, said Brechner Center Director Frank D. LoMonte, will be influential across the country, as there is a nationwide movement to open campus police records and BYU's is one of the largest remaining college police departments that has resisted disclosing its documents.
"This case is significant not just for access to campus police records, but for access to records of other private organizations that are given the authority to step into the shoes of the government. The justices have a chance to set a clear standard that puts government agencies on notice they cannot 'contract away' transparency by deputizing private organizations to perform essential governmental safety duties," LoMonte said.
The Brechner Center's work on bringing transparency to police agencies at private institutions is part of the Shadow Governments Project, spotlighting the ways that public business is done by quasi-public organizations that evade open-government laws. 
Posted: July 1, 2019
Category: Brechner News
Tagged as: campus police, public records, Shadow Governments, Utah Supreme Court