Frank LoMonte Comments on Employee Free Speech Rights and Student Journalist Protection
Frank LoMonte, University of Florida College of Journalism and Communications Brechner Center for Freedom of Information director, is the author of "Private Employers: You Can't Forbid Your Workers from Talking to Journalists" published on Poynter.org on Jan. 14.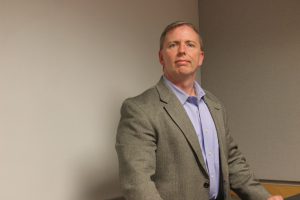 In the article, LoMonte states that many employees believe they forfeit their free-speech rights when they take a job. However, LoMonte citing a new Brechner Center white paper, explains how federal labor law forbids private-sector employers from barring their employees from speaking to the news media without supervisory approval.
"The First Amendment does not apply to decisions made by private employers, but workers in the private sector enjoy some free-speech protection courtesy of the National Labor Relations Act ("NLRA")," said LoMonte. "Despite decades of clear legal precedent, our research found that policies restricting employee communications with the public and press are unapologetically commonplace. Online searching turns up numerous examples of corporate handbooks stating that employees are required to forward all media inquiries to a public-relations spokesperson without commenting."
LoMonte believes that the public's understanding suffers when rank-and-file employees are unable to discuss their work with journalists and a prepared statement from a public relations officer is no substitute.
LoMonte was also quoted in "Dels. Chris Hurst, Danica Roem Introduce Bills to Protect Journalists" published in The Roanoke Times on Jan. 14.
The article focuses on two journalists-turned-lawmakers who have introduced legislation to project student and professional journalists. The bill, part of the "New Voices" movement, would prohibit schools from limiting student's rights to free press and speech unless such content was libelous, slanderous, violates the law, incites danger or disrupts a school setting.
According to LoMonte, there has been a groundswell of support for student journalists in recent years.
"First, people recognize that students are increasingly the primary source of information for their communities. Many school boards are covered on a regular basis only by student journalists," he said. "Second, people realize that censorship is ridiculously futile now that everyone is walking around carrying an information supercomputer. It's just nuts for schools to be cutting articles about pregnancy out of the newspaper as if they can seal teenagers inside an impenetrable information bubble."
Posted: January 16, 2019
Category: Brechner News
Tagged as: Brechner Center for Freedom of Information, Frank LoMonte