Frank LoMonte Pens Article on the Effect of Freedom of Information Laws and Transparency
Frank LoMonte, University of Florida College of Journalism and Communications Brechner Center for Freedom of Information director,  is the author of "Mitch Daniels' Dystopian Nightmare" published in Medium on Aug. 15.​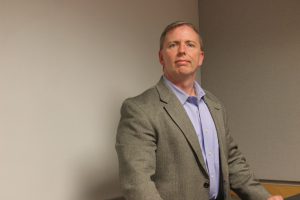 LoMonte responded to an Aug. 13 Washington Post opinion column written by Purdue University President Mitch Daniels. In the column, Daniels claims that America's obsession with transparency has resulted in a government that has been rendered less nimble, less talented and less effective.
LoMonte says that higher-education leaders "talk incessantly about their enthusiasm for civic engagement" until citizens try to participate in government decision-making. LoMonte cites several examples of how freedom of information requests led to impactful investigations, including felonious activity by former Detroit Mayor Kwame Kilpatrick and the sexual abuse of young gymnasts by former Michigan State doctor Larry Nasser.
LoMonte offers that government has become increasingly more secretive. "Conversations that once took place in public have migrated to undetectable chat apps," LoMonte writes. "Entire categories of formerly public documents, such as mugshots of federal prisoners, have been declared off-limits. Federal judges have distorted student privacy law to nonsensical extremes, enabling public schools and colleges to conceal nearly everything they do."
Posted: August 16, 2018
Category: Brechner News
Tagged as: Brechner Center for Freedom of Information, Frank LoMonte, Medium