Call for entries: Joseph L. Brechner Freedom of Information Award 2017-18
Journalism published or broadcast during 2017 that highlights the importance of open government in advancing the public's right to know is eligible for a $3,000 cash award offered through the Brechner Center for Freedom of Information at the University of Florida.
The Joseph L. Brechner Freedom of Information Award is presented annually to recognize outstanding news coverage that promotes transparent, accountable government. Applications are due March 9, and details about how to apply are available on the brechner.org website.
The winner will be recognized April 9 at a meeting of the Florida Free Speech Forum in Gainesville, Fla., and entrants will be expected to send at least one representative to accept the award in-person, with travel expenses covered by the Brechner Center.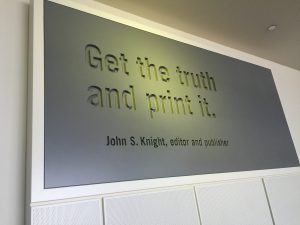 Previous winners have included the Miami Herald for its series, "Innocents Lost," about the lack of followthrough on abuse complaints in Florida's child-welfare system, and The Los Angeles Times, for "Lifting a Cloak of Secrecy," detailing the newspaper's fight for access to information about ownership of the Los Angeles Coliseum.
The Brechner Center presents the award with the support of a generous grant from the family of pioneering broadcast executive Joseph L. Brechner and his wife, Marion. The Brechner Center was founded in 1977 as a source of research and advocacy supporting the public's right of access to civically essential information, in Florida and throughout the country.
Posted: February 21, 2018
Category: Brechner News
Tagged as: Brechner Awards, investigative reporting