Detroit Free Press Named 24th Annual Brechner Award Winner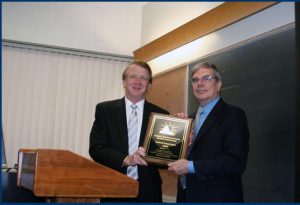 The Detroit Free Press has been named the winner of the 2009 Joseph L. Brechner Freedom of Information Award for exposing a pattern of abuse by former Detroit Mayor Kwame Kilpatrick. The Free Press' coverage of the text message scandal eventually resulted in the mayor's resignation and jailing.
"These stories demonstrate the critical role investigative reporting and freedom of information laws play in exposing government corruption and misconduct," Sandra F. Chance, executive director of the Brechner Center for Freedom of Information, said.
The series will be recognized with a $3,000 prize, which will be presented to Free Press Publisher and Editor, Paul Anger at an awards ceremony on Friday, March 26, 2010 at 8:30 a.m. at the University of Florida College of Journalism and Communications. During his visit to UF, Anger will also be a guest speaker to several journalism classes. The Free Press won a Pulitzer Prize for its reporting on city corruption.
"The Detroit Free Press' use of public records laws and strong investigative reporting revealed shocking incidents of corruption and dishonesty by an elected official," Chance said. "This is the kind of reporting that reminds us of how important a free press is in guarding against government wrongdoing."
The Free Press obtained from confidential sources more than 14,000 text messages sent to and from the city-issued pager of former Detroit chief of staff Christine Beatty. A three-month review of these text messages revealed that Beatty and Mayor Kilpatrick were engaged in an intimate relationship and that the pair had lied under oath in a police whistle-blower case that cost taxpayers more than $9 million.
"We had a challenge in how to frame the original story," Anger said. "We decided it was not about sex or steamy exchanges. It was about wasting huge sums of taxpayer money. It was about lies that destroyed good cops' careers. It was about false testimony by top city officials that exposed them to perjury charges."
After the Free Press broke the text messaging story, prosecutors launched an investigation that led to jail sentences for both the mayor and his aide. The newspaper also filed a Michigan Freedom of Information Act lawsuit in its efforts to obtain additional documentation and was successful.
The annual award was established by the late Joseph L. Brechner, an Orlando broadcaster. Previous award winners include: the San Francisco Chronicle, The Washington Post, the Columbia Journalism Review, The St. Petersburg Times, The Dallas Morning News, the Sun-Sentinel (Fort Lauderdale) and the Houston Chronicle.
Posted: March 26, 2010
Category: Brechner News
Tagged as: Brechner Awards, Detroit Free Press